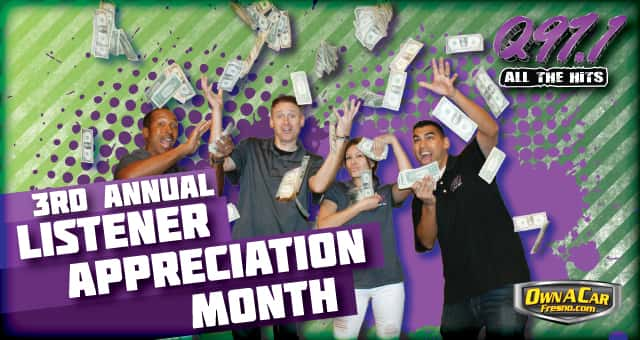 Q97.1 appreciates you! 
To say "thank you" for always showing us so much love, it's OUR turn to give back…again!
November is Q97.1's Third Annual Listener Appreciation Month!
Every weekday (except Veteran's Day, Thanksgiving, and Black Friday), we will call you to personally say thank you….and to put some free money in your hands! 
You'll win $100 just for answering your phone when Q97.1 calls.
We appreciate you…we just need to know WHO you are. 
Call Q97.1 at (559) 266-9797 anytime Monday through Friday between 6am and 10pm and give us your name and cell number.
That's ALL you need to do!
The winning starts on Monday, November 6th!
Win free money and know that you're appreciated by Q97.1!
Presented by Own a Car Fresno.