What's Happening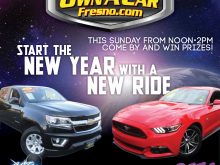 Come out and join Yo Boy Dub once more at Own A Car this Sunday from 12-2pm!
Manson Family Killer Leslie Van Houten's Parole Blocked by CA Gov

January 20, 2018

Manson family killer Leslie Van Houten's slight whiff of freedom just got snuffed out by Cali Gov. Jerry Brown. Gov. Brown kept his streak going, and once again reversed the parole board's recommendation Van Houten be released. Back in September the…

Tom Petty's Autopsy, Singer Died from Massive Accidental Drug Overdose (UPDATE)

January 20, 2018

Tom Petty's autopsy results are in, and they show the singer died from an accidental drug overdose as a result of taking a variety of medications.  The L.A. County Coroner says a number of Tom's organs failed due to "mixed drug toxicity." The…

Too Short Sued for Sexual Battery

January 20, 2018

Too Short is being accused of sexual battery ... TMZ has learned. The rap legend is facing a lawsuit ... filed Friday in Los Angeles by a woman named Teana Louis. According to docs, obtained by TMZ, Teana says Too Short sexually assaulted her on…
Join Our VIP Club!